Web Candy News
Monday, 28 April 2014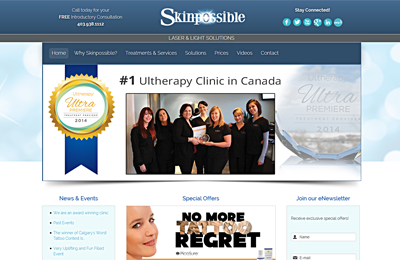 Skinpossible came to Blue Ocean looking for a clean and beautiful new design for their website, showcasing their vast range of high-tech services and treatments. Blue Ocean delivered beyond expectations with a dynamic new 'responsive' design and a renewed site that is computer, tablet and mobile friendly. To learn more about what responsive design is, go to our Calgary web design page.

About Skinpossible

Skinpossible is a medical-grade laser clinic with the exquisite ambience of a spa in a country setting.

At Skinpossible we strive to give our clients more than they expect and to maintain a level of safety and cleanliness that will earn their trust and confidence. The clinic is non-cluttered and designed for the privacy and comfort of our patients. There is plenty of parking and the separate entrance has been beautifully landscaped. Surrounded by nature, in a country setting, with a spectacular view, the clinic is bright and yet eye-soothing inside and out.

Find out what's possible at www.skinpossible.ca
Thursday, 20 March 2014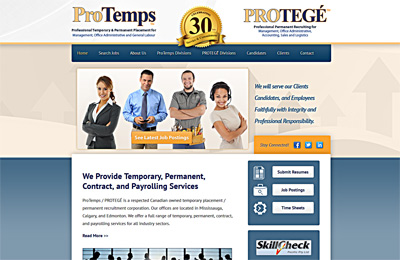 ProTemps/ProTegé does important work across Canada connecting employers with talent in many professional sectors. They came to Blue Ocean with an existing site containing a lot of good information and functionality, but it drastically needed re-organization and a fresh, modern look. Blue Ocean delivered a compelling new design and layout that gave Protemps the contemporary presence they needed on the web, taking them forward into the future while building on their 30 year history. For more information on Blue Ocean's Web Design please see: http://blueoceaninteractive.com/services/calgary-web-design.html

About ProTemps/ProTegé

ProTemps/ProTegé is a respected Canadian owned staffing agency, serving the labour market since 1985. Our offices are located in Mississauga, Ontario (serving the greater Toronto area), Calgary and Edmonton, Alberta.

Our Senior Recruiting Consultants take pride in everything they do.

http://www.protempscanada.com




Monday, 17 February 2014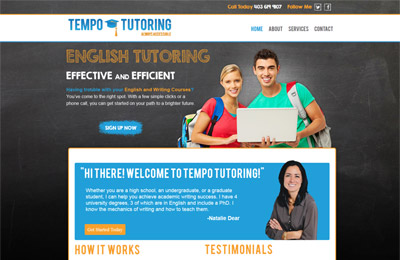 Tempo Tutoring came to Blue Ocean looking for an entirely fresh and new brand, logo and website design. Blue Ocean delivered a vibrant and 'responsive' design with an accessible site that is friendly across all platforms from laptops to mobile devices. This new look and navigation allows learners easy access to view information or sign up for a session online, including online payments. To learn about responsive design, take a look at our Calgary web design page for more information.

Tempo offers a different type of tutoring. Their time commitment is not limited to a 45 minute session together. Completed course assignments can be emailed prior to the session giving the opportunity to review your work. Sessions focus on techniques on how to improve the assignment and why these techniques are successful. For those students who choose to register for a 5 or 10 session package, they are available online and by phone for questions that arise while the student is working on course assignments. As well, they can incorporate into your tutoring program short exercises to improve sentence constructions, reading comprehension, and/or essay writing. Such sustained interest by the student and Tempo Tutoring in the student's progress will result in academic success that will extend well beyond the registered course.

www.tempotutoring.ca
Tuesday, 28 January 2014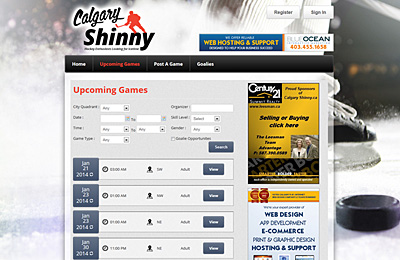 CalgaryShinny.ca is collaborative concept between The Leesman Team and Blue Ocean Interactive to create an online community of hockey enthusiasts looking for local shinny hockey games. A place where people could sign up for free and post games as well as find out about all the local hockey and ice time happening in our city. Blue Ocean laced up and set to work creating a dynamic, intuitive and interactive site. Users can view games with a custom search by various criteria such as date and skill level, or register for their own account to post games. A newsletter rounds out the feature set to keep visitors appraised of all the on-ice action happening around the city. Check out what Blue Ocean can do to bring your creative website idea to life: http://www.blueoceaninteractive.com/services/calgary-web-design.html

About Calgary Shinny

Calgary Shinny is a community which provides free memberships to users to allow them to access a network of local hockey related information.

http://calgaryshinny.ca/
Monday, 16 December 2013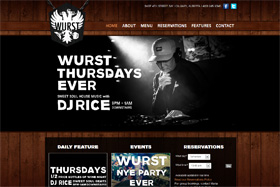 Although their website wasn't destroyed in the Calgary flood of 2013, Wurst decided to rebuild it anyway, along with their entire venue AND menu! Blue Ocean was happy to oblige with a wunderbar new website, fully responsive across all platforms including mobile and tablets. An online reservation booking system rounds out the features on tap for the new uber-site. For more information about Blue Ocean's tasty web design click here: http://www.blueoceaninteractive.com/services/calgary-web-design.html
Combine great food, 20 hand-selected beers and the old world camaraderie of Munich's famous beer halls and you get WURST Überkitchen. Wunderbar. Whether it's a casual drink and a meal in the lounge or a few beers and shared apps at our always-boisterous communal benches, WURST is always best.
Monday, 09 December 2013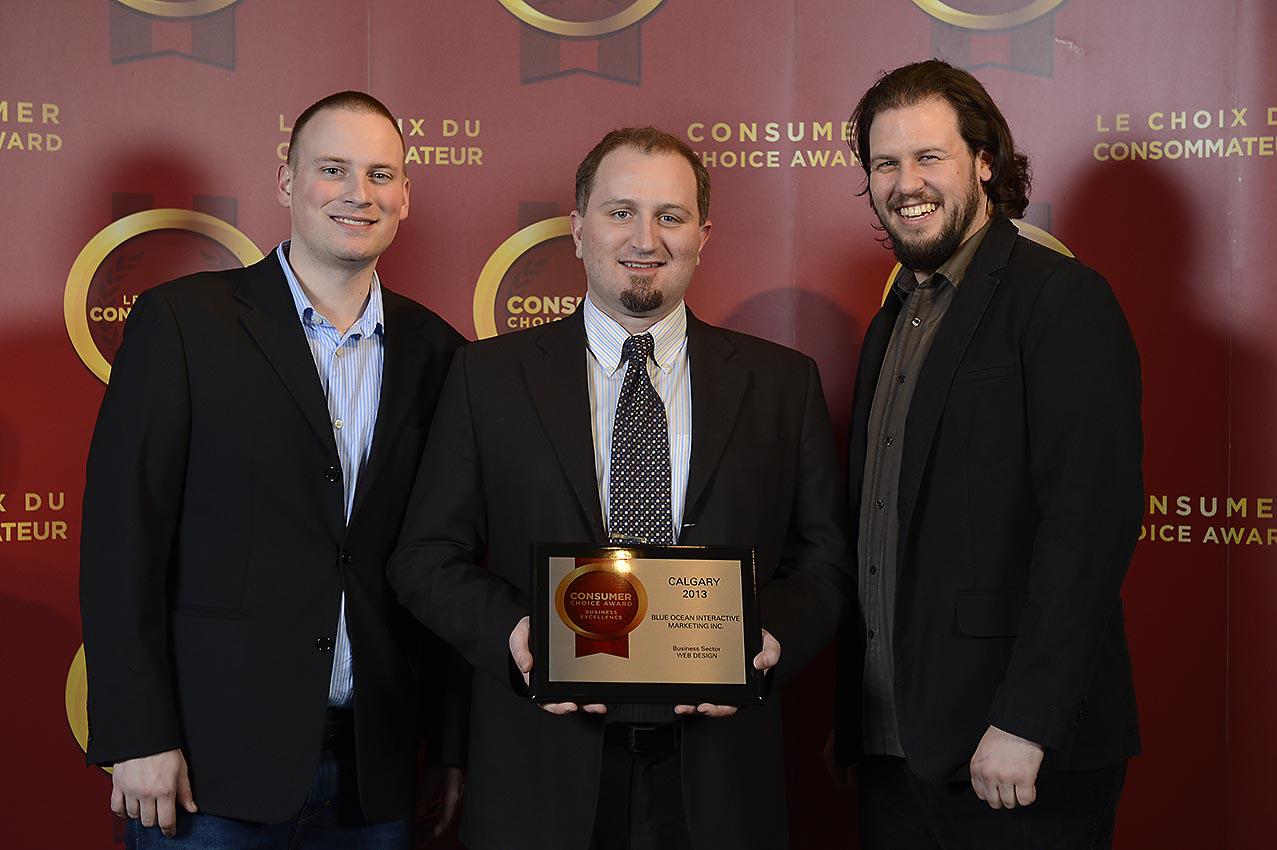 Web Candy Design is excited to announce that Blue Ocean Interactive Marketing, for the THIRD year in a row, are the Calgary Internet & Web Design Consumer Choice Award winners for 2014!
Here is our page on the CCA website: http://virtual.calgarysun.com/doc/calgarysun_specials/consumerawards_nov2013/2013112001/#1


Blue Ocean is determined make 2014 another big year and grow its success to become the premier Interactive Marketing company in Western Canada.
Photo by PERRY THOMPSON
«
Start
Prev
1
2
3
4
5
6
7
8
9
10
Next
End
»
Page 4 of 29