Details

Created: Wednesday, 07 May 2014 01:00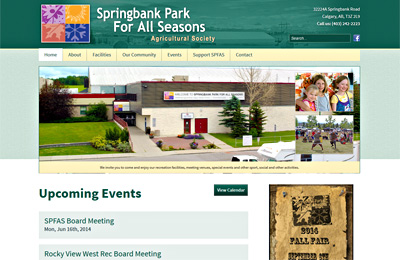 The SPFAS came to Blue Ocean looking for a fresh and vibrant new design for their website, showcasing their wide array of facilities and events. Blue Ocean delivered beyond expectations with a dynamic new 'responsive' design and a renewed site that is computer, tablet and mobile friendly. To learn more about what responsive design can do for your online presence, go to our Calgary web design page.

About Springbank Park For All Seasons

The Springbank Park For All Seasons (SPFAS) offers a wide array of recreation facilities, meeting venues, special events and other opportunities for people to come together for sport, social and other activities. SPFAS is a not-for-profit registered society that is led by a voluntary Board of Directors. SPFAS works closely with a number of different partners to provide many sports programs and social activities to youth and adults.

SPFAS welcomes facility rental and service inquiries. This website will assist you with obtaining information about the programs, services, activities and facilities available at the Springbank Park For All Seasons.