Details

Created: Friday, 31 October 2014 18:03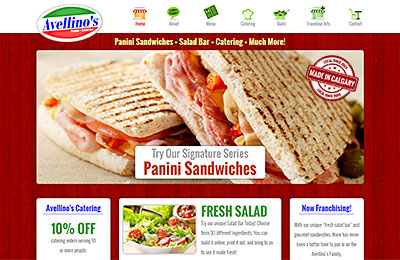 Avellino's Catering has been a long-term client with Web Candy / Blue Ocean and recently the time had come to do a major website update. The Web Candy / Blue Ocean design and development team was able to deliver a fully updated design utilizing maximum screen real estate as well as programming the template to be 'Responsive' for all devices. We also included a major upgrade to their Content Management System and their Search Engine Optimization.
Avellino's mission is to expand by opening stores in malls, high traffic areas, colleges, universities and airports throughout Canada. They want to change what fast food has to offer by including healthier, fresh, quality choices such as: custom made salads, panini sandwiches, sub sandwiches, wraps, pita pizzas, and even breakfast items.
Take a look at the new design: http://www.avellinospanini.com