Web Candy News
Thursday, 18 April 2013
Our long time clients, Autotemp Air & Sound have been working on a new branding! They wanted to create something fresh and modern and have created something really clever!

The use of bold fonts and icons has really taken their look and feel to the cutting edge. The website navigation is also updated with the use of visual icons which increases the web usability and overall experience.
Autotemp has alos updated their facebook page with their new branding - facebook.com/autotempairandsound
Thursday, 08 March 2012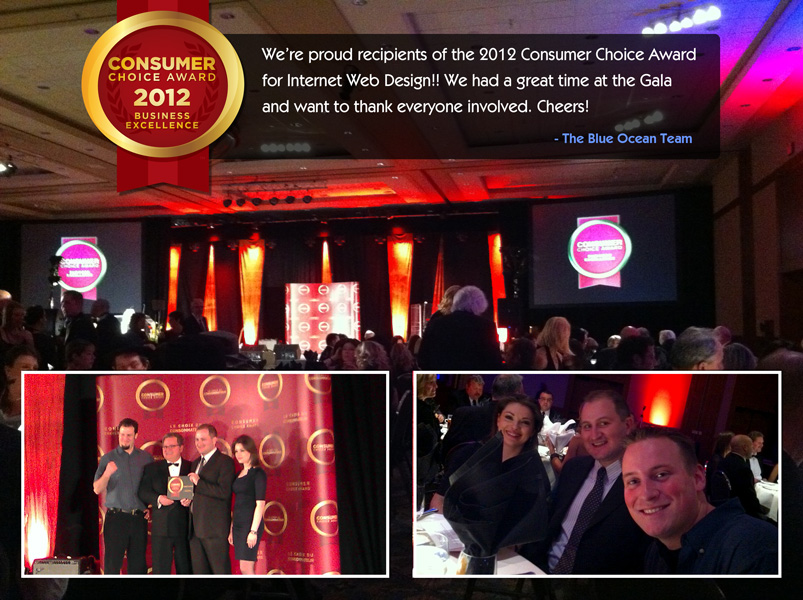 CALGARY - Blue Ocean Interactive Marketing is very proud to have been selected for the 2012 Calgary Internet & Web Design Consumer Choice Award. Blue Ocean is determined to continue and grows its success and become the premier Interactive Marketing company in Western Canada.
Each year across Canada, Consumer Choice Award gathers the opinions, perceptions and expectations through the responses of thousands of consumers and businesses. Established in 1987, the selection process has been perfected with a third party research firm to ensure that only the most outstanding service providers are the winners within an industry. This is the only organization in North America to recognize business excellence by conducting a research that surveys both the consumer & business community with statistical accuracy. The research method determines all service providers, ultimately selects the top ranked companies, and establishes the winner within each industry.
Monday, 05 March 2012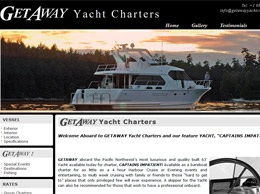 Web Candy is excited to be working with GETAWAY Yacht Charters on improving their organic SEO results.
Located right in Downtown Vancouver, GETAWAY Yacht Charters is the perfect take off location to some of the best Yachting and fishing locations in the world. Pick your own timeline, move at your own schedule, there's no traffic to worry about! Vancouver, the Gulf Islands, Victoria, Seattle, maybe Desolation Sound or the San Juans... the choices are all yours!!
GETAWAY Yacht Charters has a luxurious and quality built 63' Yacht available for charters. Available as a bareboat charter for as little as a 4 hour Harbour Cruise or Evening events and entertaining, to multi week cruising with family or friends to those "hard to get to" places that only privileged few will ever experience. A skipper for the Yacht can also be recommended for those that wish to have a professional onboard.
Wednesday, 24 August 2011
Web Design & Marketing firm, Web Candy Design, announced the launch of a website for one the best landscape maintenance and construction contractors in Southern Alberta - Foothills Landscaping. Foothills Landscaping contacted Web Candy to create a fresh new website for them that would be easy to update as well as showcase their services and past work in an engaging website experience.

Foothills Landscaping are a company passionate about building and maintaining fantastic landscapes. Their key staff know how beautiful green spaces come together, whether they're just being installed or have been established for decades. Developers, Contractors, and Institutions trust them with the challenging task of making their projects look their best regardless of the strange and often baffling weather that southern Alberta experiences.

Take a look at their new website at: http://www.foothillslandscaping.ca
Wednesday, 24 August 2011
Web design and marketing company, Web Candy Design Inc., is happy to announce the launch of a professional counselling website for Paraklesis Counselling. Dr. Mervin Van Der Spuy, head counsellor/therapist, contacted Web Candy about creating an interactive website where people could find information on the best treatments for various mental illnesses. As well, Dr. Van Der Spuy wanted to include the options of Online e-counselling (e-mail, chat & video) in addition to traditional face to face counselling. Web Candy was able to deliver a website with a custom programmed scheduling component and other interactive elements.
Paraklesis Counselling is done from an integrative approach, recognizing the importance of biological (medical), psychological (emotions, cognitions and behaviour), social (family and community), and spiritual (faith and religion) factors. Paraklesis offers personal and spiritual enrichment opportunities; marriage, family and relationship courses; lay counsellor training; and counsellor supervision.
Take a look at their website at: http://www.paraklesiscounselling.com
«
Start
Prev
1
2
3
4
5
6
7
8
9
10
Next
End
»
Page 6 of 29