20 Tips for Your 2016 SEO Strategy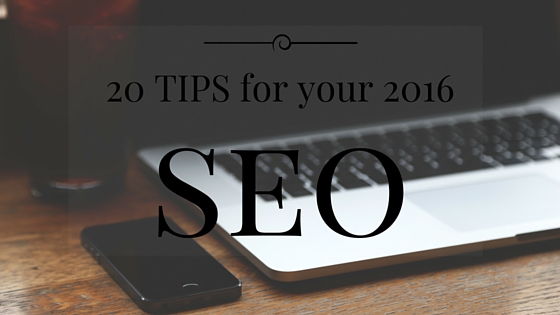 Your SEO strategy isn't a one-time thing you implement and then are done with. In fact, Google's algorithm changes multiple times throughout the year, keeping digital marketers on their toes and forcing them to update their practices. What worked before, may no longer work and as such, we thought we should get you up to speed with solid SEO tips for 2016.
It's always good to reassess your website and ensure that you're utilizing the best SEO techniques available. So if you haven't looked at your site in a while, you probably should. Go through this checklist and make the necessary changes to your website so that your SEO strategy is on point for 2016.
Here it goes:
Have a solid technical site structure and user navigation menu

Make sure your information architecture is logical

Link internally within your body content to areas that correspond accordingly to other content on your website

Have a mobile responsive web design! This is pertinent to having a solid local SEO strategy in 2016. People are glued to their phones so it's in your best interest if you want to succeed as a business to have a website that is mobile friendly.

Post regular, newsworthy stories. Consistency is key for maintaining a blog and your social profiles. Share industry relevant news and market yourself as a thought leader in your field.

Ensure your company's NAP (Name, Address, Phone number) information is visible, accessible and accurate.

Apply engagement focal points, i.e. Your Calls to Action and Social Profile buttons should stand out and beg to be clicked on

Instead of focusing on singular keywords, think about your user's intentions and think of the long tail keywords and phrases that they would use to find you

Create content for your users, not for search engines

Quality back links are more important than the quantity of back links you have

Focus on how people engage with your brand, product or service and create content that supports their needs

Create and implement an online review acquisition strategy

Optimize your images - do not ignore image file names and ALT tags when uploading image and video files

Do not have duplicate content, plagiarism isn't cool and Google is smart enough to know if it's been copied from somewhere else on the web.

Get on social media and be active on your profiles. It's a great place to share what you post on your website and proliferate your messaging and branding across the web.

Page speed matters immensely to Google. If your site takes too long to load you should speak with your website developer. It could be the way the site is coded.

Keyword domains are worth it. If you can purchase a domain that contains a keyword that your users would use to find you, you should definitely snatch it up.

Claim your Google Plus Local account and ensure the listing is correct.

Care about your analytics and makes changes to pages that have a high bounce rate, whether it's improving the content or changing the design to keep your web visitors on your site.

Be visual.