5 Local SEO Tips: How to Optimize Your Website for Local Search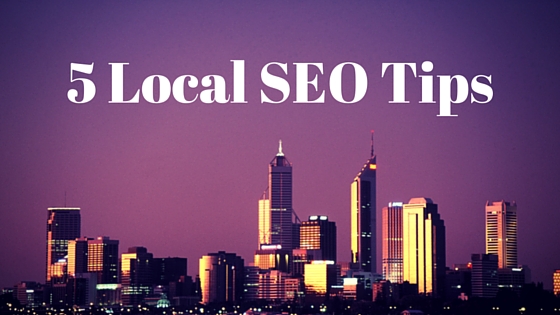 Getting potential customers in your area to find your business when they're searching the web is a highly profitable enterprise. Think about it, you want to target an audience that is looking for you because you're close to home for them. Since 2011, Google searches containing the words "near me" have surged 34 times, with the vast majority coming from mobile searches.

Thus, you'll want to effectively optimize your website to show up in local search results via local SEO. Here are some local SEO tips to get you started:
You Best Be Mobile Friendly
As we noted above, people are increasingly searching from their phones to find the information that they need on the go. If your website is not mobile friendly, you need to fix that ASAP. As of April 21st, 2015 Google implemented changes to its algorithm using "mobile friendliness" as a ranking signal. What this means is that, if your site fails to be mobile friendly, it also fails to get on Google's good side which means it moves lower down the ranks in search engine results. So what do you do? You make sure your site is scalable on all devices - phones, tablets and desktops, to ensure that it reads well for your website users and for the search engines.
Name, Address, Phone
This vital information should appear throughout your website, it should not just be allocated to a corner in your 'contact' page. Nobody puts Baby in the corner! You want this information to appear in the header and/or footer of every page on your website so that your potential customers can contact you easily. Also, you want to ensure that your name, address, and phone information is consistent across the web, as this is essential to getting more citations and also improving you search rankings.
Don't Forget Your Social Profiles
Your social profiles offer another means for you to optimize your local SEO efforts. Regardless of what platform you use, whether it's Twitter, Facebook, Instagram, etc. you want to optimize these profiles to contain your local information. Fill out their "about" sections with relevant details about your business, include your location and again, make sure the contact information is consistent. If you set up your social media accounts a while back, it's worth the time to go back and check in to see that the information listed is up to date.
Get on Google My Business
If you are not on Google My Business yet, you must do so immediately. Claim, verify and optimize your Google My Business page. Fill out as many fields as possible, if not all of them to populate the page with all the details of what you offer. Also, make use of Google's social network – Google+. In your Google+ profile, be sure to fill it out with as much information about your services and location as you are able. Although it's never been explicitly stated, making use of Google's products shows Google you are active on the web which is a key indicator for them that your site is not remaining inactive and stale.
Reviews
Reviews go a long way in getting people to trust you and your business. People trust people and that's why review sites like Yelp, TripAdvisor and UrbanSpoon do so well. Instead of giving people sales information, they simply contain nods in favor or against your business from other 'real' people. Because you'll have a Google+ page, you can now direct your clients to leave you a review. Depending on your business there may be other sites that perform better as review platforms, for example Houzz.com is a popular one for home builders. To find out which review sites will work for you simply type into Google "your industry" and "reviews" to see which sites the search engine finds. After this, add yourself to these directories and ask your customers to write reviews/testimonials for you when they are happy with your business.