How to Drive More Traffic to Your Website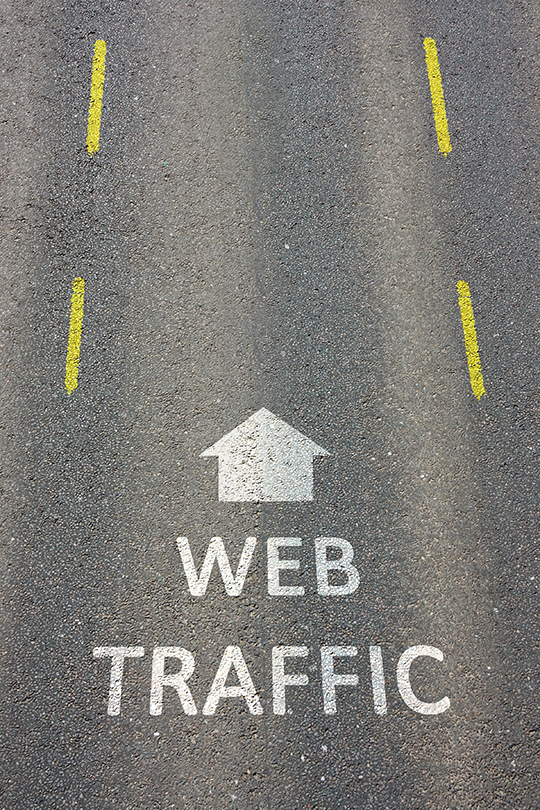 You've got a fancy fresh new website live on the web, it shows you're legit and a credible business. But how do you get people to actually stop on by during their online travels?
Driving traffic to your website is essential for earning new business as it builds brand awareness and lets potential customers discover and learn about your offerings. With a little bit of work and a commitment to maintaining the effort, you can definitely drive more traffic to your website with these actionable tips:
Start a Blog
Blogging has multiple benefits beyond driving traffic to your website. It can be used to showcase your industry expertise, it helps with your SEO, it provides your web visitors with useful and relevant information.
Some people become apprehensive when thinking about taking on a blog for their business, anticipating the work that will be involved to maintain it. But it doesn't have to be a daunting task. Committing to a monthly blog post schedule should be doable and is definitely worth the effort.
By addressing questions that are frequently asked by your customers or sharing industry updates through your company's blog, you are creating fresh content which the search engines smile upon. This in turn can help to increase your page ranking, meaning, moving you up in search results. Also, when other inquiring minds are looking to find the answer to said question, you show up as a helpful industry expert and reach a new potential customer.
Be Social
Use social media channels to drive traffic to your website. It's totally free advertising and when done well, can shuttle new visitors to your website. You don't necessarily need to be on every channel that exists, there's a lot of them and new ones keep popping up. But choose the ones that are relevant for your industry. By simply claiming your social media profiles, you are protecting your brand and also helping your local SEO.
Also, your social media networks are the perfect place to promote your blog posts to bring traffic to your site. How will people know that you've published something great if you don't tell them?
Long Tail Keyword It
Think about the phrases or words that your potential customers would use to find you using a search engine – these are your long-tail key words. Keywords are more inline with SEO and older SEO practices but still remain very relevant. Keywords are essentially signals to search engines that your website is about whatever it is that someone is searching for and thus, you'll want to incorporate them into the words on your website.
The search engines have gotten smart enough though to distinguish between copy that is littered with keywords in an effort to scan the system and then, the truly good stuff on the net. So don't over do it with keywords for the sake of including them because you can actually be penalized for this type of behavior as this is seen as a blackhat SEO practice.
Create Attention Grabbing Headlines
For everything you write, whether it's a blog post or a post to social media, you'll want to catch people from the get-go with dope headlines that capture their attention. In a world where new content is being generated at a staggering rate per minute, you'll need to stand out from the crowd.
A good place to start when improving your headline writing is just by looking at a newsstand. Check out the headlines used to advertise the current issue of your favourite magazine and become critical of what grabs your attention and what doesn't. Pique your reader's interest by mimicking the formulas used by those who do it best.
Advertise
This may seem blatantly obvious but it's worth mentioning. If you don't currently have your website's URL on your business card or other print marketing materials, you should get that fixed ASAP. Again, how will people know of your website if you don't tell them? As well, think about other paid advertising channels to promote your website, whether that's in print, on radio, through Google AdWords or Facebook Ads. The more your name is out there, the more likely people will remember and recall it.
Be Responsive
Yes, as a business owner you should always be responsive to your customers to establish a good relationship with them and be seen as providing top level service. But in this case, we're talking about how your website should be responsive. It actually must be responsive if you want to compete in today's market for online views. Google's mobile search index won't index your website if it isn't mobile-responsive and thus, you miss out on showing up in search results when people are googling things on the go. Also, creating a responsive web design ensures that your website looks as it should across all devices, smartphones, tablets and desktops whether it is being viewed in portrait or landscape mode.