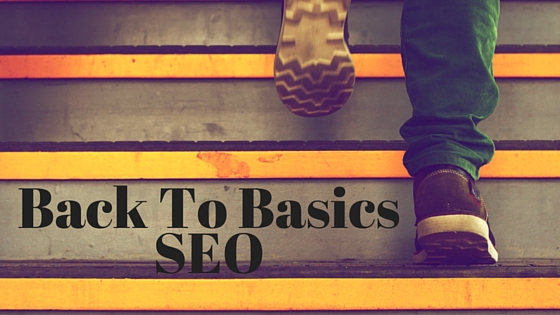 As a web design firm, we consistently get asked "How do I get on the first page of Google?"
AdWords, a concerted effort at SEO, time.
But of course, there are always more questions that follow and further explanations to be given.
Some people, to no fault of their own, truly don't know that you can pay for placement on Google and Bing. Others think SEO is some kind of code that is programmed into a site that will produce results over night. We've even had a client who within 2 hours of launching their brand new website, ask why they weren't on Google's first page. Clearly, he didn't understand how search engines work.
Thus, we thought it important to bring things back to basics and provide a rundown of what is going on when you look at a search engine result page. You'll understand why it takes time after a new website launches for search engines to find you and how they go about ranking your web pages.
How Search Engines Work
Search engines are answering machines. They aim to provide their users with the best possible answer to the query they type in. Like super advanced calculators, they take your query, search their massive database of information and then output the results to you.
They are responsible for crawling and indexing EVERY single page on the web and god knows how many people all over the world are publishing at any given time. So, if it takes time for Google to find you, I think you can imagine why.
It can take anywhere between 20 to 40 days after launching a website to be indexed by search engines
It can take anywhere between 6 to 9 months before competitive rankings can be achieved (although, this can be longer if you don't get some reliable inbound links pointing back to your site or less time if you do get some great links that cite you)
Anatomy of a Search Engine Result Page
When you look at a search engine result page (SERP), two things are happening. What you're seeing along the top and right hand sections of the SERP are paid ads. People in this area have paid to play through Google AdWords or Bing Ads for their placement. Both Bing and Google will identify that these results are paid for by placing an 'ad' icon next to the listing.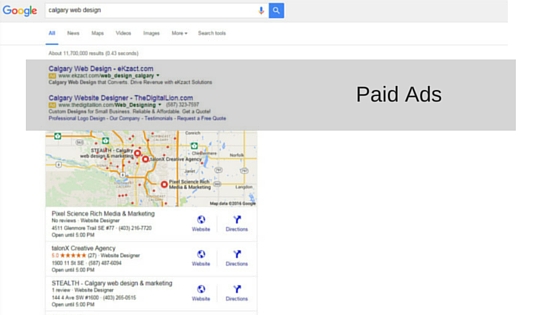 Google's SERP also contains their Google Places listings which features the map that tags businesses relevant to your search query within your area. These results are not paid for but instead appear via organic search results.
Google Places
To get on here, make sure you've claimed your Google My Business listing. Using Google's own words "My Business puts your business info on Search, Maps and Google+ so that customers can find you, no matter what device they're using."
You'll want to double check that your business listing information is consistent across the web, i.e. anywhere your business NAP (name, address and phone number) is listed online, whether its directories, your social media profiles, etc. When Google's search bots cross reference your business' NAP, they are looking to see that the information is accurate and not conflicting with other information out there on the web.
Ranking well in Google Places is largely a result of Local Search Engine Optimization (SEO) efforts whose aim is to boost one's ranking in organic search results.
"Organic" Search Results
So, all results below the 'ads' on Google and Bing have achieved their ranking organically, yielding their positions due to best practice on-page and off-page SEO techniques. SEO then, only affects organic search results.
The Google Algorithm is essentially a highly advanced mathematical formula that SEO's the world over are trying to crack. Although, no one has yet to find Google's magical formula, there are some best practice tips for optimizing your web pages via content, alt image attributes, and proper url structures.
We're written a slew of blog posts with a section dedicated to Search Engine Optimization Blogs. Go through them to learn more about how you can optimize your site for organic search.