Land More Leads Through Your Website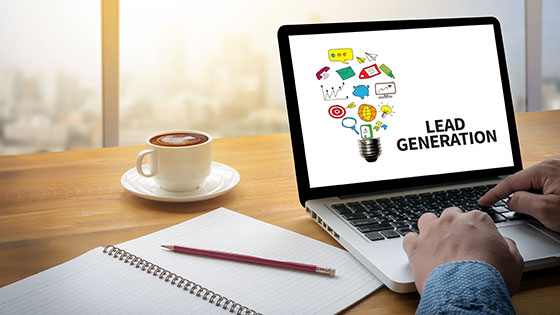 Your website is a key destination when it comes to your online marketing endeavors, acting as an around the clock spokesperson to sell and share your wares. Whether you sell products, services, ideas or spread knowledge, as a business owner you realize the value of having a website and that's exactly why you're reading this. To generate more business, you'll want your website to be easy to use, and have calls to action that lead to more leads. So how do you get there? Well, here you go:
Optimize Your Website for Conversions
Think about what it is you want your website visitors to do. Do you want them to call you? Do you want to capture their email info? Do you want them to come into your store or make a purchase online? By identifying what it is you want your call to action to be – you can then optimize your website for these conversions to gain leads.
It's about knowing what your primary intentions are so that you can say such to your web designer. A good designer will highlight these key calls to action, prioritizing where the eyes go on any given page within your website so that your web visitors will follow through and do what it is you want them to do.
Link to Your Social Media Sites
Cast your net that much wider by linking to your social media profiles to capture more followers. This isn't about the number of followers you have but rather about creating further exposure to your brand online.
If you're publishing and sharing great content, your audience will appreciate this and spread the love accordingly. In this way, you generate more leads by appealing to friends of friends of friends. Never underestimate the power of recommendation and word of mouth.
Your social media sites also allow you to engage with your audience in a way that your website just doesn't allow. Business websites generally just talk but don't listen. Social media allows for a conversation where you can hear what it is your consumers want, don't like, or appreciate. You can then use this intel to create better relationships, products, and ultimately a better business.
Be Mobile Friendly
Consumers readily reach for their phones when looking for info on the go. Mobile search traffic continues to increase alarmingly given the ease with which, we can reach into our pockets and ask Google to find us something.
What does this mean? It means your website best be mobile friendly. 1) You want to appear in mobile search results, especially if you have a brick and mortar store and are looking to draw in local traffic when someone does a "near me" search. 2) Your website should make it easy for potential customers to easily contact you, for example having a click-to-call phone number, a map, your hours and readily accessible product information.
Keep Content Relevant
Care about your website. That might sound obvious but a lot of people get a website created and forget about it after the fact – letting information get stale or become irrelevant. If your services, products, or hours change – be sure that your website's information does too. Your website should inform your customers of what's going on in the "right now" of your business, not what was going on last year. In addition, you always want to ensure that your contact information is up to date. That means your address, phone number, and email. How are people going to get a hold of you if they don't have the right info? No contact, no leads…you get it.
Make Sure You're User Friendly
The web has made it convenient for businesses to market themselves and for consumers to easily access the information they are looking for. As such, when a website is clunky or makes its visitors go through a bunch of hoops to get the information they want, well – people get irritated and leave.
A great user experience, includes fast page loading times. Even Google recognizes this and has actually made it a part of its algorithm when ranking websites. In addition, user friendly sites have intuitive navigation menus with an easy to understand information architecture.
Going outside the box in this respect, may seem cool to you but its infuriating for users who are used to finding things where they should be. There's a reason that when you click on the top left logo of a webpage that it brings you back to the home page – it's best practice and a staple that users have come to expect. So again, make it easy for your web visitors. You want leads, not people leaving your site.