Choosing the Right Domain Name for Your Business Website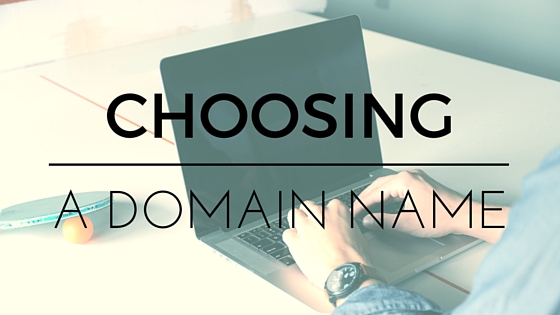 Selecting a domain name is a lot like selecting the name for your business, a lot rides on it. Especially in this digital age where millions of domain names are registered, you want to ensure that what you choose as the main URL for your business is something memorable and web worthy. You want to stand out and you want to ensure that when someone's typing your domain into their web browser they're finding you and not someone whose name is similar to yours. As such, here are a few tips to help you choose the right domain name for your business.
Keywords are Key
When you're starting from scratch, begin by brainstorming all the terms and phrases your desired audience would use to find you. Make a list of the key things that you do and from there, you can start playing around with them using prefixes and suffixes or pairing terms up. If you're a local business, it's a good idea to consider including your location in the domain name. This will help your local SEO. For example if you're in the auto glass replacement business, choosing a name like CalgaryAutoGlass.com says what you do and where you are – which is what people will be searching for.
Clarity is King
While quirky is endearing and can appear to be memorable, funky spelling can get tricky when people are trying to type in your URL. People generally type in what they hear so while it may seem cute to claim a domain like xpresscooking.com instead of expresscooking.com – be wary, as the unclear spelling may direct your clients to a competitor rather than your own website.
Keep it Short and Sweet
When your domain name is long and complex, you risk customers misspelling or mistyping your URL. By keeping it short, the potential for errors isn't as great and it helps to keep your domain name memorable.
Make it Memorable
You want your domain name to be sticky. You want it to latch on to the minds of your website beholders so they can easily recall what to type into the address bar the next time they want to visit your site. With millions of registered domain names out there, you want something catchy but also clearly relevant to your business.
Make it Easy to Type
As we mentioned earlier, messing around with spelling can get tricky on the web, especially when someone is unfamiliar with your website to begin with. Using slang terms or funky spelling can make it difficult for your users to find you when they assume they are looking for "you" rather than "u". Another thing to note is weird punctuation like car.s.com because cars.com is unavailable. Unless you have a strongly established brand presence and people know that you are car.s and not cars – you can lose traffic due to this.
Avoid Hyphens and Numbers
Again, this can cause confusion for your web visitors – are they supposed to type in "lucky7" or "luckyseven"? Or was it "lucky-7" or "lucky-seven"? While this may be unavoidable for some businesses as their name may include a number, in cases like this it may be a good idea to purchase all the domain name variations if you want to effectively capture and direct visitors to the correct website.
Do Your Research
Once you think you've settled on a name, do your research to ensure that it isn't already trademarked, copyrighted or being used by another company. This can result in legal issues and in you losing the domain name you stressed yourself out to finalize.
.Com It
While there are various extensions to be used including .net, .ca, .org, etc. using the .com suffix is your best bet because it is what most people tend to remember best.