Website Writing Tips - How to Write For the Web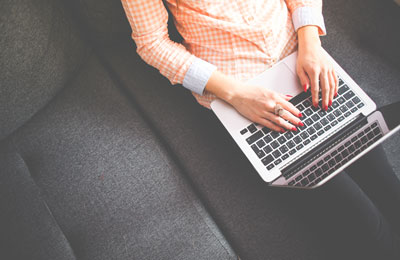 Writing for the web is entirely different than writing for print. Website users tend to be driven by a desire to complete a task quickly, find the info they need in a hurry. When it's too hard to find what you're looking for – you leave. So, how do you capture someone's attention on the web with your words? Here are a few tips to help you write for the web:
Think Like a Journalist
Your headlines are everything. The first words that you lead with will determine whether or not someone is going to stick around to read the rest. Work on honing your headlines to reflect the information that your audience wants to see and learn more about. Be compelling, be concise and be clear about what it is you want to say from the get go.
Use Bite Sized Bits of Info
As mentioned, be succinct by being short and sweet. No one likes to scroll infinitely down a large wall of text. It's like swallowing an elephant whole. But how do you eat an elephant? One bite at a time. Make what you write easily digestible by creating small bits of information.

Reading on the web is different than reading in print. Most web readers scan the words on a webpage rather than following your every word. As such, structure your writing for lazy web readers by:
Using bullet points
Making use of headings and sub headings
Using bold or italicized text to highlight pertinent information
Keeping your text lean (i.e. keep your paragraphs, sentences and words short)
Invert the pyramid and keep your most important info at the top
Be Inspired
Writer's block sucks. It's frustrating but it's also unnecessary. Our world is an infinite source of inspiration – all we have to do is look around and talk to the people in our lives. Asking for ideas prompts ideas. Probing someone else's brain allows you to find out what it is about your industry that they'd like to know. Chances are your potential customers are also seeking out the same information. Write about it.
Stay on Top Of Things
The nature of news has always been one of appropriating other people's stories and headlines and then making them one's own. It's important to keep up to date on your niche so that you remain relevant but also so that you can share anything of interest before it goes stale and become passé.
Be Conversational
Overly formal language is for lectures and documents that you need a lawyer to review. When you're writing for your website, think about the people who may be discovering your business for the first time and how you'd explain to them in layman's terms what you do. Write like that.
Reuse and Recycle
If you have evergreen content in your archives that was received with high praise when it was originally published, don't leave it in the dust and assume its glory days are over. Instead, give it a shine and reuse the material by updating it. Up cycle it by creating an infographic that show cases the material in a visual format or consider presenting it in a slide show using SlideShare.
The point is you want to keep your website visitors interested. By keeping it brief, you deliver value quickly and no time is wasted. Be kind to your readers by keeping it simple and they'll be sure to simply read on.