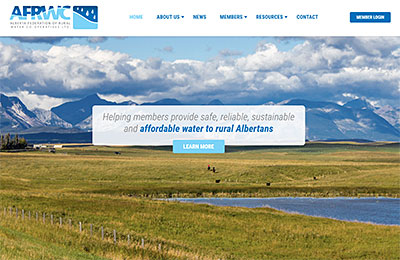 The Alberta Federation of Rural Water Co-Operatives Ltd. (AFRWC) got in contact with our web development team looking to update their website design and increase site functionality and security. We've delivered and are happy to say that their new website is now live!
We have created a custom responsive website design that makes it easy for website visitors to locate the information that they seek. There is a members-only login area that houses secure information and documents. Users can learn about the benefits of joining the federation and download application forms online.
Formed in 1994, the AFRWC helps its members provide safe, reliable, sustainable and affordable water to rural Albertans. Today there are over 170 water co-ops in the province, 75 of which are members of the AFRWC with over 3,600 connections.
To learn more and see the new site, go here: www.abwaterco-op.com