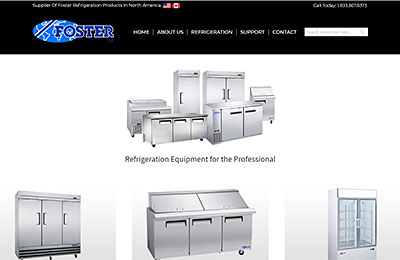 Foster Canada serves the needs of professional kitchen and food service operators throughout Canada. In need of a new website design to spread awareness of their offerings online, they got in contact with our team and we're happy to say their new website is now live.
The new website design is entirely mobile responsive and features the full refrigeration equipment lineup manufactured by Foster. Website visitors can access and download product spec sheets and technical information.
Foster Canada and Foster USA take great pride in the products and service they provide to customers. Their professional food service equipment includes commercial grade fridges, freezers, food prep tables, glass door merchandisers, back bar and under bar fridges, worktops, and chef bases.
To check out their products and the new web design, go here: www.fosterrefrigeration.com