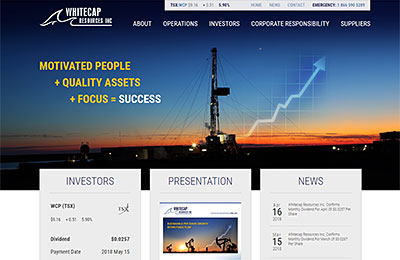 Looking to upgrade their marketing materials and online presence, the team at Calgary's Whitecap Resources got in touch. We are happy to report that their new website design is live and that their print marketing templates now match the new look and feel of the site.
Our team has created a user-friendly, responsive web design that allows visitors, investors, and stakeholders to easily access information about the publicly traded company. The site features pertinent information about the oil-weighted growth company including financial reports and all news releases.
Whitecap Resources Inc. focuses on providing sustainable dividends and profitable per share growth enhanced by value-added acquisitions. Whitecap's common shares are traded on the Toronto Stock Exchange under the symbol WCP.
To learn more and see the new site, go here: www.wcap.ca