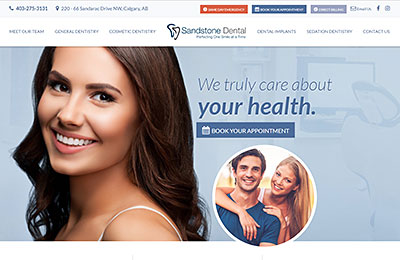 Calgary's Sandstone Dental came to our team, looking to polish up their outdated website design. We are happy to announce that their new custom web design is live.
Working alongside Dr. Manzer we've created a user-friendly, mobile responsive web design that features a fresh and inviting feel. We've updated the sitemap, making it easier for website visitors to find the information they require. Users can book appointments online by filling out the request form.
Sandstone Dental is located in Calgary's NW, providing oral care and general dentistry services to patients for over 20 years. They are committed to delivering the highest quality of technical care and treating their patients with respect, courtesy, and compassion.
If you're in need of a new dentist and want to view the new site, go here: www.sandstonedental.ca