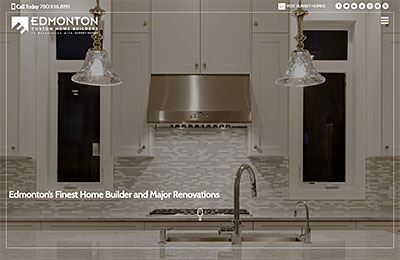 Calgary's Sunset Homes is expanding their offering outside of city limits and bringing their custom home building expertise to YEG with their new brand Edmonton Custom Home Builders. Because it is a new company they required a website to spread word of their YEG and Fort Saskatchewan based offerings and contracted our team to help out. We're happy to say their sexy new web design is now live.
We have created a custom responsive website design that features a color palate representative of the green-building techniques and methods used by the custom homebuilders themselves. Utilizing photos of their stunning bespoke luxury homes, we have showcased in a user-friendly and easy to navigate manner the building and major renovation services provided by the company.
Edmonton Custom Home Builders is a full-service custom home building and major renovations company. They specialize in creating functional, luxurious and efficient one-of-a-kind homes. From acquisition to architectural design, permitting, interior design, financing, and construction, they bring dream homes to life.
To learn more and view the new web design, go here: www.edmontoncustomhomebuilders.com