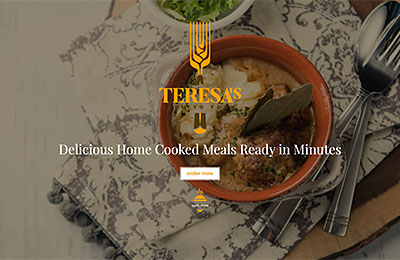 The Teresa's food team got in contact with us looking to design a logo and develop an e-commerce website design for their newly launched frozen food delivery service. Teresa has been cooking up delicious meals via her catering business for over 20 years and now, you can get her soul food delivered straight to your door, frozen and heat to eat ready.
One of our uber talented graphic designers created the logo for the brand, incorporating their "Farm to Fork" tagline as requested. We have developed a mobile responsive e-commerce web design that lets website visitors intuitively navigate through food options, add items to their cart, and securely place an order online.
The Teresa's menu is packed full of mouthwatering classics, all made entirely from scratch. As mentioned, Teresa Kneeland has operated Donalda's Teresa's Catering for nearly 20 years and now, finally, you can get her country soul cooking delivered straight to your door.
View the menu and new web design here: www.teresasfood.com