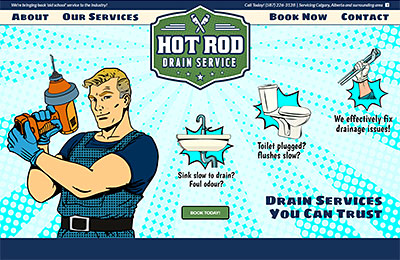 Looking to get a website developed that was reminiscent of older days to reflect their business philosophy of old school customer service, Calgary's Hot Rod Drain Service got in contact with our team. We are happy to announce that their new web design is now live.
Our team has created a fully custom website design and logo design for Hot Rod, using a retro/pop art feel that features the company's drain cleaning services in an easy to navigate manner. Visitors can conveniently fill out the online booking form to get an appointment with Hot Rod to have their drainage issues resolved quickly and at a fair price.
Hot Rod Drain Services Ltd. is a Calgary based company providing kitchen, bathroom and basement drain cleaning services. In addition, they offer video inspection services for sewer mainlines. They are fully licensed and insured.
To learn more and see the new web design, go here: www.hotroddrainservice.ca