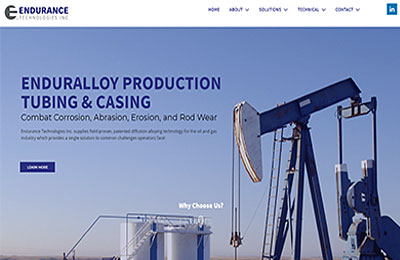 Looking to get their website redesigned to reflect and maintain a cohesive company branding strategy, the team at Endurance Technologies Ltd. contacted us. We're happy to say that their new, responsive website design is now live.
Using their logo and corporate branding guidelines, our team has created a custom, mobile-friendly website design. To keep things visually aligned, our graphic designers also rebranded all of their technical documents to match the website design. The site features their erosion, corrosion and wear combatting technology for oil and gas tubing and casing.
Since 1993, Endurance Technologies ltd. has supplied the Oil and Gas industry with diffusion alloying technology. EndurAlloy™ products are field-proven, with tubing and casing solutions that supply superior protection against rod wear, erosion, abrasion, and corrosion.
To learn more and see the new website, go here: www.endurancetechnologies.com