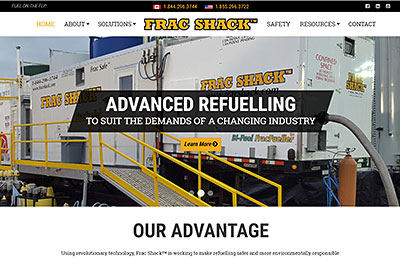 Looking to update their outdated site and give it a fresh, new and modern feel, the team at Frac Shack got in contact with us. We're super stoked to say that their new web design is now live.
We've created a custom, responsive website design that features their oil field solutions in an easy to navigate layout. Using full screen photos of their patented frac fuellers, website visitors can view and learn about their modular frac fuelling solutions and mobile elevating platforms.
The Frac Shack™ is a unique, patented frac fuel delivery system that is designed to significantly reduce the dangers of hot fuelling during continuous fracs by removing workers from the hot zone. The technology eliminates atmospheric fuel spraying on the frac pad, helping to ensure environmental protection during the hot fuelling process.
To learn more and see the new web design, go here: www.fracshack.com