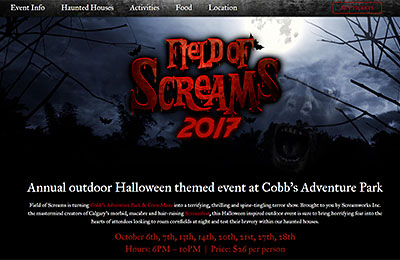 Calgary's got a new Halloween themed attraction this year and it's called Field of Screams! Brought to you by the creators of Screamfest and hosted at Cobb's Adventure Park and Corn Maze, Field of Screams is an outdoor all-ages event aimed at terrifying those who like to be scared and bringing fun to those that don't like to be afraid.
Because this is a new event, a new web design was required to showcase the attractions features online. Our team was up to the task and we've happily created a custom, user-friendly, responsive web design that lets visitors find out about the haunted houses and activities, buy tickets online and source all other relevant info.
Field of Screams has turned Cobb's Adventure Park into a spine-tingling terror show. With four haunted houses and an outdoor cemetery maze called the Cornfield of Terror, attendees can test their bravery and also participate in other rides, activities and more.
To get tickets asap and find out more, go here: www.fieldofscreams.ca