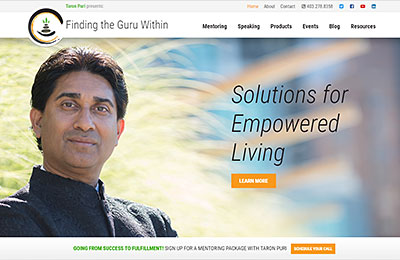 Looking to create a website to promote his new program "Finding the Guru Within", mentor, speaker and business strategist Taron Puri contacted our web development team. We are happy to announce that the new web design for Finding the Guru Within is now live.
Our team has created a custom, mobile responsive web design that also features an ecommerce area. The website allows web visitors to access resources including videos and articles that help to inspire individuals to lead a life of purpose and fulfillment. Users can sign up for mentoring packages, purchase essential oils and other wellness items, as well as begin the Finding the Guru Within program for free.
Finding the Guru Within is a movement, a community of individuals looking to master their own lives and embark on a journey of self discovery to reconnect with their inner GPS "Guru Positioning System".
To learn more and view the new web design, you can go here: www.findingtheguruwithin.com