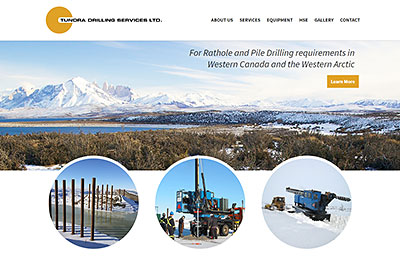 In need of a website design the team at Tundra Drilling Services Ltd. contacted us. Though they've been in business since the 90's they had yet to secure their place on the web and thus, turned to us to create a web design to showcase their skills to the online world. Their new website is now live.
We have created a responsive one-page website design that succinctly demonstrates their capacities as a geo-technical and environmental drilling provider. The custom website design is easy to navigate, user-friendly, and includes a project gallery featuring work completed by Tundra Drilling.
Tundra Drilling has installed pile foundations and provided rathole drilling and oilfield conductor services in the Western Artic since 1990. They supply piles and steel products, in addition to maintaining on-hand inventory of angles, channels, flats, plate and other structural steel. They offer welding and fabrication services both in-shop and via mobile units.
To learn more about Tundra Drilling and see the new web design, go here: www.tundradrilling.ca