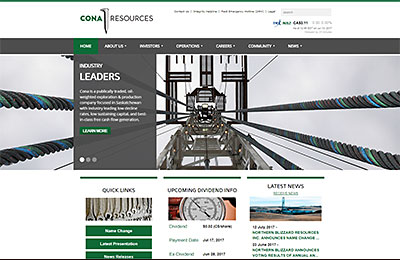 In need of a new web design to reflect their recent company name change, Cona Resouces Ltd. (formerly Northern Blizzard Resources Inc.) contacted our web development team. We are happy to announce that their new website is now live.
Our team has created a mobile responsive website design incorporating their new logo and branding colours. We migrated the existing content from the previous site, making changes where necessary in addition to adding new sections as requested by the client.
Cona Resources Ltd. is an Alberta-based Canadian crude oil production and development company focused on maximizing oil recovery from its low decline, high free cash flow oil resource base. Their operations, infrastructure and concentrated land position are focused in Southwest Saskatchewan.
To learn more and see the new web design, go here: www.conaresources.com