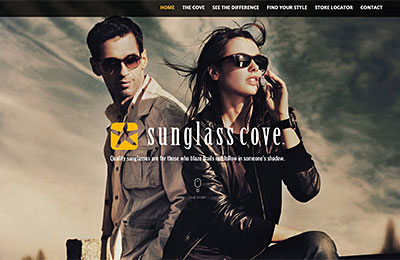 Summer is in full swing here in Calgary and a great pair of sunglasses is essential for protecting your eyes and being able to see while driving 😊 We're happy to announce our latest web design to go live is for Sunglass Cove – a purveyor of high-quality sunglasses.
Our web development team has created a custom website design using a full-screen layout that is mobile responsive and scales to size on whatever device the website is being viewed on. Web visitors can research what styles best complement their face shape, as well as what trends are currently in season. Visitors can locate a Sunglass Cove location nearest them via the custom-built component developed by our web programming team.
Since 2007, Sunglass Cove has provided high-quality sunglasses. It is a store-within-a-store concept with locations throughout optometric practices across Canada. They will be expanding into stand-alone locations this year – so do keep your eyes open for them.
Find a Sunglass Cove location near you & check out the new web design here: www.sunglasscove.ca