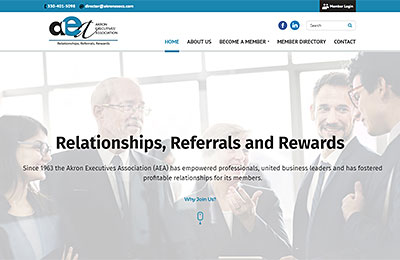 Looking to update and refresh their website's design, the Board at the Akron Executives' Association (AEA) got in touch with our team. We are happy to report that their new, responsive web design is now live.
Our team has developed a custom website design that showcases the benefits of joining the AEA. The website features an easy to navigate layout, as well as a custom-built member directory, and members-only secure login area.
Since 1963 the Akron Executives' Association has fostered profitable business relationships for its members. Composed of Akron and Summit County area business professionals, they actively generate business for fellow members.
To learn more and see the new web design, go here: www.akronexecs.com