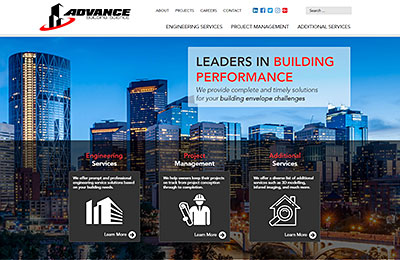 In need of a website to market their building envelope services online, the team at Advance Building Science contacted us. We are happy to say that their new website design is now live.
We have created a custom website design that is mobile responsive and scales to size on desktop computers, smartphone and tablet devices for optimal viewing. The website features Advance Building Science's multiple service offerings in an easy to navigate manner as well as recent project news and details.
Advance Building Science provides prompt and professional solutions for building envelope challenges. From engineering services, through to project management, 3D modeling, infrared imaging and more, their team of seasoned engineers, construction managers, and project managers collaborate to provide comprehensive solutions for reliable and efficient building envelope systems.
To learn more and see the new site, go here: www.advancebuildingscience.com