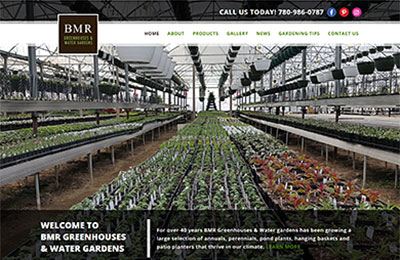 With the 2017 planting and gardening season in full-swing, our team is stoked to announce that the new web design for BMR Greenhouses & Water Gardens is live.
We have created a custom website design that is mobile responsive and features full-screen photos of the 35,000 square-foot greenhouse space and its plant, vegetable, and water garden offerings. We included an event calendar component as requested by the client, so they can keep their customers informed of sales, charitable events, and community get-togethers online.
For over 40 years BMR Greenhouses and Water Gardens has grown and sold a vast collection of annuals, perennials, pond plants, hanging baskets and patio planters. They also have the largest selection of tomatoes, hot peppers, succulents and locally grown water plants in the Edmonton area.
To see what else they've got and to view the new web design, go here: www.bmrgreenhouses.com