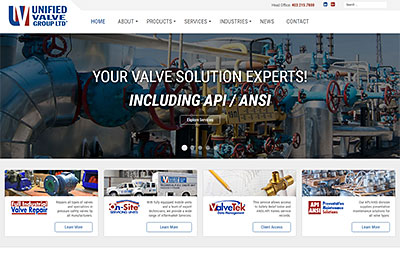 In need of a web design overhaul, the team at Unified Valve Group Ltd. contacted our web development team. We have created a fresh new web design that is mobile responsive and is now live for your viewing pleasure.
Our web design crew has built a custom web design that is easy to navigate and features the many offerings provided by Unified Valve Group. We have included a careers section component which allows Unified to post job opportunities on the site, as well as receive applications through it. In addition, web visitors can access the ValveTek™ data management system which allows them to track service records and other vital valve information anywhere they have access to the web.
Established in 1987, Unified Valve Group Ltd. is recognized as an industry-leading provider of valves and preventative, predictive and corrective valve service maintenance.
To learn more and peruse the new web design, go here: www.unifiedvalve.com