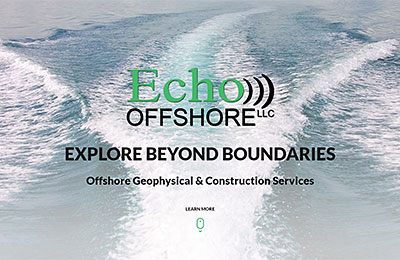 Courtesy of our web development team, Echo Offshore LLC is live on the web with a new website. They came to our team looking for a simple, one page website design to showcase their offerings.
Our team developed a user-friendly custom web design that is mobile responsive. Our programmers also built a custom component that shows details of their service offerings when users scroll above the respective main service category.
Echo Offshore LLC offers comprehensive offshore geophysical and construction services including: data acquisition, processing and interpretation. They operate from water depth ranges of near-shore shallow water to full ocean depths. In addition, they supply construction positioning and call-out services to the offshore construction industry.
To find out more and view the new website, go here: www.echo-offshore.net