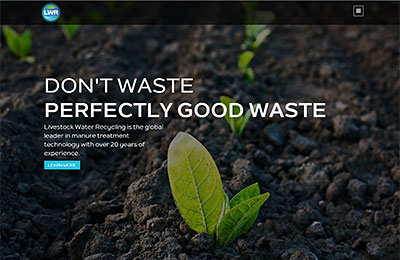 In need of a website redesign, the team at Livestock Water Recycling (LWR) contacted us. We are happy to say that their fresh new web design is now live.
Our awesome designers and wizard programmers have created a custom website design that highlights LWR's manure treatment technology. The user-friendly website also includes an interactive map that details their system installations that have been successfully implemented throughout North America.
Livestock Water Recycling works with farms around the globe to help reduce greenhouse gas emissions, concentrate and segregate nutrients for strategic fertilizer application, and recycle clean, reusable water.
To learn more and view the new web design, go here: www.livestockwaterrecycling.com