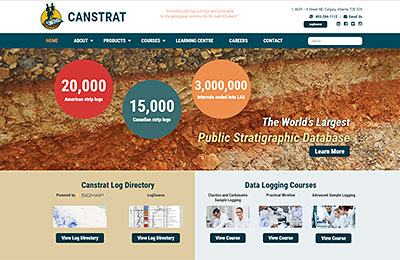 Looking to rock a new web design, Canstrat contacted our web development team. We are stoked to say that the new web design for Canstrat is live.
We have created a custom website design that features Canstrat's products and services in an easy to navigate manner. Web visitors can purchase grain size cards online, register for Canstrat courses online, and can access resources to learn how to analyze various stone samples and drill cuttings via the learning centre.
Canstrat has provided well log cuttings and core data to the geological community for over 60 years. They possess the world's largest public stratigraphic database. LogSource is a cloud based app that allows users to explore the evolving Canstrat log database. In addition, the Canstrat Log Library is an industry recognized resource consisting of over 35,000 standardized strip logs available for download.
To learn more and see the new web design, please go here: www.canstrat.com