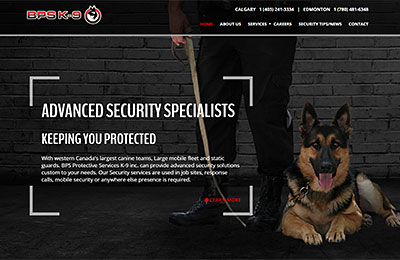 In need of a website redesign, the team at BPS K9 Security contacted our web development team. We were happy to help them out and are proud to say that their new web design is now live.
Our team developed a custom web design, programming the website so it is fully mobile responsive. Web visitors can peruse BPS K9's security services via their smartphone, desktop and tablet devices. We also created a custom form for the website's careers section that allows users to upload resume information and submit their credentials online.
BPS K9 Security boasts Western Canada's largest canine unit. Since 1999, they have provided Calgary and Edmonton with advanced security solutions including: event security, private investigation services, alarm response, mobile security, stationary guard security, vehicle escorts and more.
To see all of BPS K9 Security's offerings and to view the website, go here: www.bpsk9.com