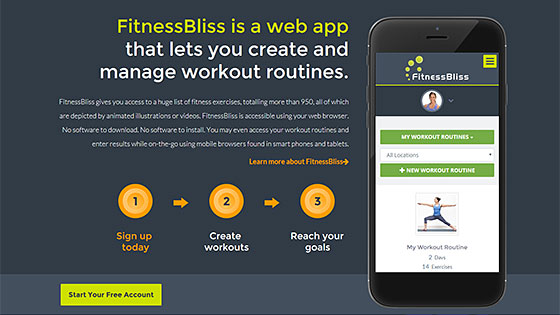 Our team is super happy to announce that the new FitnessBliss web app is now live. Our web design team worked on redesigning the frontend of the website, earlier this year which went live before the app was re-built. In the meantime, our programmers worked diligently to develop the backend – creating a custom-built web app that allows users to build, manage and schedule workout routines. And yes, the app is now available online!
Our programmers have created an app that contains a library of more than 950 different exercises, many of which are paired with videos and animated illustrations for your viewing pleasure. Users can access exercises according to targeted muscles group or exercise equipment available, and drag and drop these into routines that they create. There is also a virtual trainer component which builds an exercise regime for you based on your personal fitness goals – whether it's weight loss, increased flexibility, strength or to improve sports performance.
FitnessBliss is currently available in English, French and Spanish. It is free to use, however, there are premium level memberships which entitle members to unlimited saved routines and for personal trainers, allows them to manage multiple clients in one spot with branded communications. FitnessBliss lets you create and manage workout routines from your phone, tablet and desktop so long as there is a Wi-Fi connection.
To learn more, sign up and see the app, go here: www.fitnessbliss.com