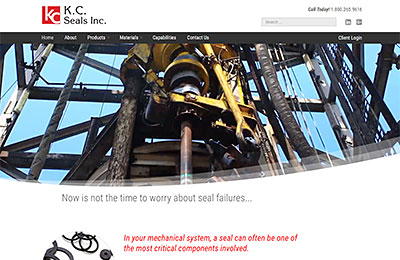 Wanting to upgrade their website and get on the responsive web design train, the team at KC Seals Inc. got in contact with us. We are proud to say their new and improved mobile friendly web design is now live.
We have developed a custom web design that is user friendly and easy to navigate. KC Seals wanted the new website to be an information hub that allows user to look up material information and product specifications quickly and easily. After integrating the new content into the website, our team ensured that the new design displayed correctly on all devices, in both portrait and landscape modes for a truly responsive web design experience.
Based in Calgary, KC Seals Inc. has provided efficient and successful sealing solutions since 1992. They engineer, manufacture, and distribute sealing solutions, working with their clients to find the best sealing solution possible for their particular needs.
To have a look at the new web design, go here: www.kcseals.ca