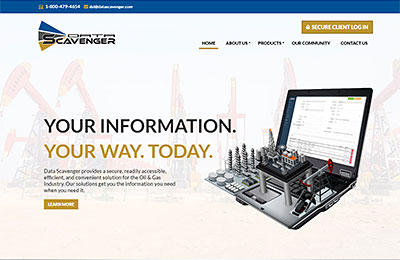 Looking to refresh and redesign their website, Data Scavenger contacted our web development team. Their new and improved web design is now live.
Our crew has developed a custom web design that is mobile responsive and scales to size on all devices in both portrait and landscape viewing modes. We also created a custom component that allows web users to access and download secure whitepapers via an online request form. This form, in turn allows site administrators to access contact information which then allows them to follow up on online leads.
Since 2003, Data Scavenger has helped their clients increase efficiencies throughout their organization by creating products that streamline operations, safeguard and share industry data and simplify workflows.
To learn more and see the new site, go here: www.datascavenger.com