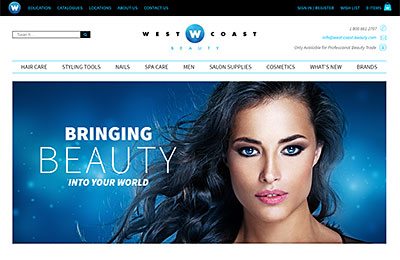 In need of a web design makeover and looking to launch a new ecommerce website, the team at West Coast Beauty contacted us. We are happy to report that their new online store and fresh new web design is now live.
Our team designed a custom website design which our programmers coded into a mobile responsive template. The online store features customized components that allow users to sign in for industry-preferred pricing rates, register for courses online, search through product inventory and download catalogues.
West Coast Beauty is educationally driven, offering a wide range of classes that enhance the business of beauty from precision cuts to solutions specific to the trade. For over 25 years, this Canadian owned beauty supply company has brought licensed hairstylists and estheticians throughout BC the beauty products their clients crave.
To view the new web design, you can go here: www.west-coast-beauty.com