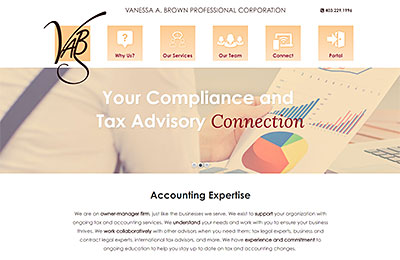 Looking to get a web design makeover, the team at Vanessa A. Brown Professional Corp. got in contact with our team. Our crew got to work creating a modern, fresh web design and it is now live.
Our web design team developed a custom web design that is responsive and provides visitors with a user friendly experience that is easy to navigate and straight-forward. We have incorporated greater functionality to the site by creating a "pay online" area that allows users to pay for invoices directly on the website. As well, we have integrated with a third party system that allows clients to book appointments online.
V.A. Brown supports organizations and individuals with ongoing tax support and accounting services. They are located in Calgary's SW Touchstone Corporate Centre.
To learn more and see the new site, go here: www.vabrown.ca