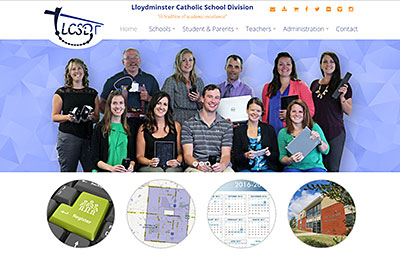 In need of a website redesign, the Lloyd Catholic School District (LCSD) contacted our web development team. We are happy to say that with a new school year they also have a new website!
The new responsive web design features photos of the schools, students and teachers belonging to the school district. It is a modern design that captures the innovative spirit of LCSD. It is easy to navigate and features online forms for students, teachers and parents to easily fill out online.
LCSD oversees the operations of several schools from pre-school through to highschool. They aim to nurture the spiritual, intellectual, social and physical development of each student under their guidance in a faith-centred community.
To view the new web design, you can go here: www.lcsd.ca