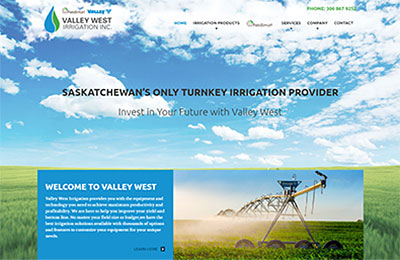 Hoping to create an online presence for themselves, the team at Valley West Irrigation contacted our web development team. We are happy to announce that their new web design is now live.
Our team created a custom web design that is mobile responsive and showcases the top of the line irrigation products and services provided by Valley West to Saskatchewan farmers. Programmed using a content management system, the website allows for site administrators to easily make updates and edits to the frontend of the website.
Valley West Irrigation aims to build relationships that span generations by providing superior customer service. They adapt new and innovative equipment to serve the needs of their customers' operations and stay up to date in the areas of evolving farming practices.
To learn more and view the new web design, go here: www.valleywestirrigation.ca