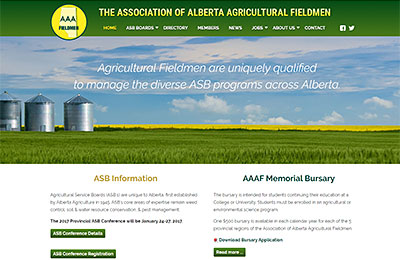 Looking to get their website mobile responsive, the Alberta Association of Agricultural Fieldmen contacted our web development team. We are happy to announce that their new mobile-friendly web design is now live.
Working with them in the past to develop an app and their previous web design, our teams collaborated again to create a user friendly web design with greater functionality. This time around, our team incorporated an events component which allows web visitors to register online for the annual ASB Conference from their smartphone, tablet or desktop.
The AAAF develops, implements and controls programs designed to carry out priorities and policies set by their Agricultural Service Board (ASB). ASB's core areas of expertise remain weed control, soil and water resource conservation, and pest management.
To learn more and view the new web design, go here: www.aaaf.ab.ca