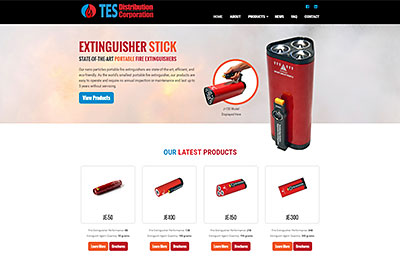 Recently attaining the rights to distribute exclusively a line of innovative portable fire extinguishers, TES Distribution contacted our team to create a website to market the state-of-the-art products. The new web design is now live.
We have created a custom website design that is mobile responsive and showcases in an easy to navigate manner the many features of the innovative extinguisher stick products. Our team also laid out print marketing materials for TES that illustrate model specs, features and product applications.
TES Distribution is committed to distributing cutting-edge fire protection products for an array of users including: consumers, commercial, government, industrial, law enforcement and military clients. The technology utilizes nano particles to effectively put out fires and results in efficient, eco-friendly and portable fire extinguishers.
To learn more and see the new website, you can go here: www.tesdistribution.ca