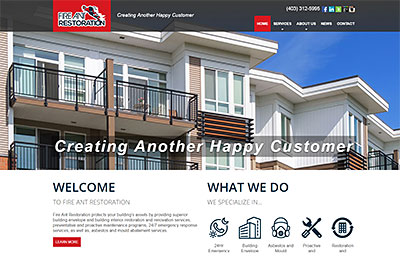 Looking to have a website designed for their recently launched commercial division, Fire Ant Contracting got in touch with our team. We worked together previously, designing their residential renovation website and this time around, we have developed a new web design for Fire Ant Restoration.
We have created a custom web design that is in keeping with their established branding. The website is mobile responsive, user friendly and provides visitors with the knowledge they seek through best practice information architecture.
Fire Ant Restoration supplies building interior and building envelope restoration and renovation services. They also provide preventative and proactive maintenance programs, 24/7 immediate response service, as well as mold and asbestos abatement services.
To view the new web design, you can go here: www.fireantrestoration.com