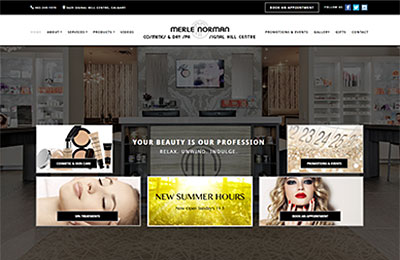 In need of a website redesign, the team at Merle Norman Signal Hill got in contact with us. We were happy to pretty up the site and get it mobile responsive. The new web design is now live.
Our web designer created a custom web design that features photos of the state of the art studio and also showcases the many speciality products offered at the day spa and cosmetics salon. We programmed the site using a content management system which allows site administrators to easily make changes to the website. The new design reflects how Merle Norman Signal Hill is in the business of beauty.
Merle Norman Signal Hill provides a full spectrum of esthetic services, in addition to medical spa treatments, RMT and relaxation therapies, as well as grooming essentials. Located in Calgary's Westhills Shopping Centre, it is the ideal place to pamper yourself or treat someone you care for.
Look at the new website here: www.merlenormansignalhill.com