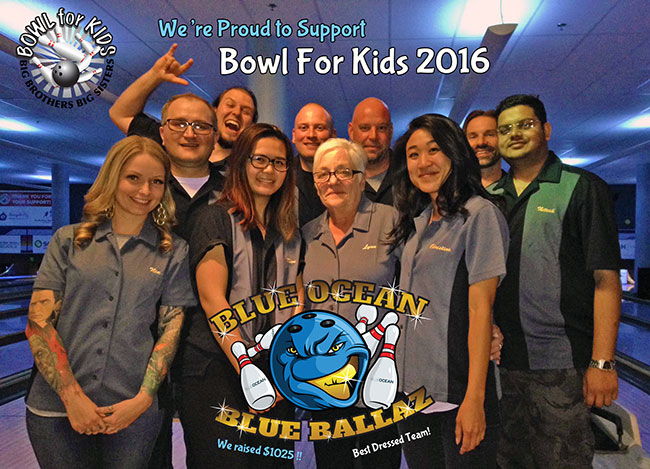 Web Candy is a division of Blue Ocean Interactive Marketing (BOIM) and this year BOIM proudly sponsored the Bowl for Kids Calgary event. Bowl for Kids is an annual bowl-a-thon that raises funds for the Big Brothers Big Sisters of Calgary & Area and is hosted by the Stampede City – Canadian Progress Club.
Our team, named the Blue Ocean Blue Ballaz, raised $1,025 for the mentoring organization which pairs children and youth in our community with volunteer mentors to facilitate resiliency, social support and future orientation for kids and youth. We got bowling shirts printed with a logo designed by our wonderful in-house graphic designer Dustin and were awarded with being the "Best Dressed Team" of the night.
The night was so much fun, despite our lack of perfect scores (5 pin bowling is hard!) The event included a silent auction, door prizes, prize draws, and a 50/50. The second bowling game was coined "Crazy Bowl" because it required bowling all ten frames doing strange things. For ex. Bowling with a one eye closed, sitting at the end of the lane and pushing the bowling ball towards the pins, and bowling backwards.
Bowl for Kids is an annual event that happens every June so look out for next year's event if you did not have the opportunity to participate this year. Registration is totally free - you just need to commit to raising $100 in pledges to join. Teams consists of five members, so definitely find five friends, family members or co-workers to create a team for next year.
It's a great night out and a great way to raise funds for a very important organization. Thank you again to all those who donated to our team!