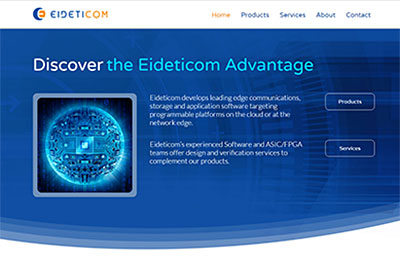 Eideticom is a new application software company developed by seasoned entrepreneurs, who contacted our team to create a website and logo design for the new company. We are proud to announce that the new website is now live.
Our graphic designers designed a logo for the software development firm to establish a new brand for the new company. We then created a custom website design that illustrates the advantages of working with Eideticom, whilst making it easy for web visitors to navigate through the site. The site is programmed using a content management system which means, site administrators can easily update and upload content to the frontend of the website.
Eideticom develops world-class communications, storage and applications software targeting programmable platforms on the cloud or at the network edge.
To learn more and see the new site, go here: www.eideticom.com