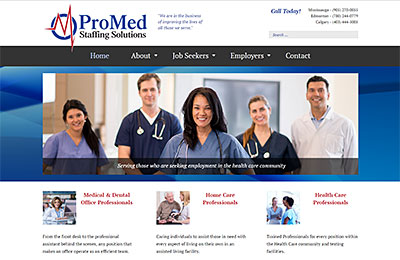 Long time clients of ours, ProTemps, got in touch with our team to have a new website developed for their recently started healthcare division called ProMed. The new web design for ProMed is now live.
Our web development team has created a custom web design that is mobile friendly and easy to navigate through. We've programmed the site using a content management system which allows site administrators at ProMed to easily update job postings and other information on the website.
ProMed Staffing Solutions offers cost effective staffing solutions that exceed industry standards and provide the complete medical staffing package. They also work with medical and healthcare aide professionals to source medical careers and employment opportunities that best fit the skills and needs of their clients.
To learn more and view the new web design, you can go here: www.promedstaffingsolutions.com