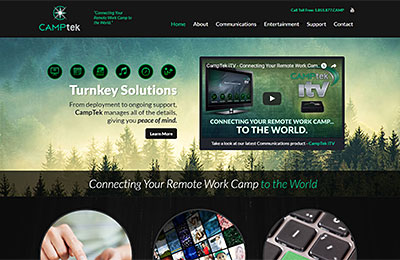 CampTek was in need of a major redesign of their website and our web development team was up to the task. We are happy to say that their new web design is live.
The new website is mobile responsive, scaling to size on all devices in both portrait and landscape modes. In addition, we assisted with content development for the website as well as, programmed the site using a content management system that allows site administrators to easily make changes to the frontend of the website.
CampTek connects remote work camps to the world by providing turnkey solutions from deployment to ongoing support. They specialize in enhancing the remote work camp experience for operators and guests by providing wireless high speed internet solutions, communications and entertainment systems custom built for remote access sites.
To view the new web design, you can go here: www.camptek.ca