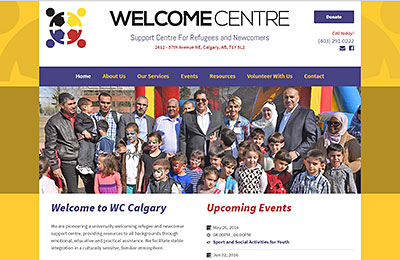 Our latest web design to launch is for Calgary's new support centre for refugees and newcomers to Canada called the Welcome Centre. Their team got in touch with us hoping to create a new web design in order to promote their services online. We are happy to say that the new website is now live.
We created a custom web design that showcases the many offerings and services provided by the non-profit organization whose aim is to facilitate a stable integration for those newly living in Canada. We've created a custom event calendar so visitors can see what activities are available, in addition to integrating the website with PayPal functionality for those who want to make a donation.
The Welcome Centre welcomes refugees and newcomers from all cultures, providing services and programs to help newcomers successfully transition into their new community. They provide resources to people of all backgrounds through emotional, educative and practical assistance.
To learn more and view the website, you can go here: www.wccalgary.ca