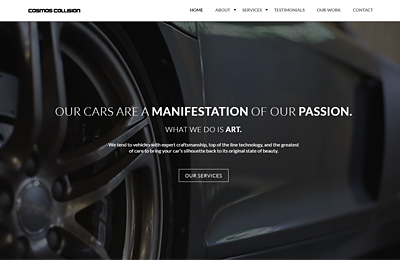 Cosmos Collision Centre contacted our team looking to have their website redesigned. We were totally up to the task and are happy to say that the new web design is live.
We crafted a custom web design, incorporating a video into the landing page to illustrate the beautiful work performed by the Cosmos team. We also assisted with creating content for the website, contributing our writing chops to the project. The site is programmed such that it is mobile responsive and utilizes a CMS.
Cosmos Collision is a family operated, Calgary based, luxury automotive body shop. They restore damaged vehicles with care, expertise and an exacting attention to detail.
To check out the new site, go here: www.cosmoscollision.com