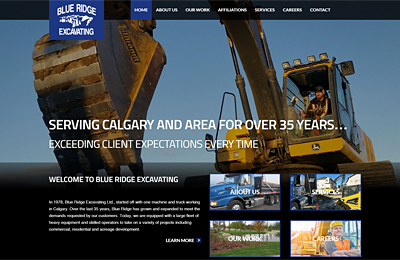 Hoping to give their website a design overhaul and get it mobile-friendly, the folks at Blue Ridge Excavating got in contact with our team. Their website is now live.
We created a custom web design, incorporating images of the Blue Ridge fleet at work. The site is mobile responsive, displaying on all devices as it should by scaling to size accordingly. We also programmed the site using a content management system that lets the site's administrator easily make changes to the website.
For over 35 years Blue Ridge Excavating has been serving the needs of Calgary and surrounding area homebuilders and contractors. They specialize in excavation services for residential, commercial and development projects.
To see the new web design, go here: www.blue-ridge.ca