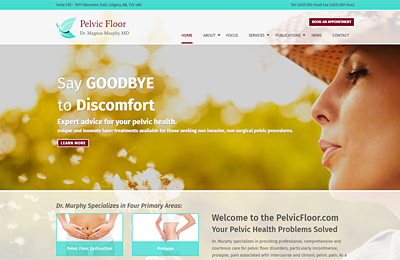 In need of a new website design for his private practice, urogynecology specialist Dr. Murphy contacted our team. We are happy to say that the new web design for Pelvic Floor is now live.
We custom built the website, using Dr. Murphy's favourite colours in the design. Our team also helped sort out the information architecture, given that the previous website's content was buried beneath confusing sub sections. We programmed the website using a content management system which allows Dr. Murphy to easily edit, update and maintain the site.
Dr. Murphy's private practice, Pelvic Floor, provides courteous and professional care for pelvic floor disorders including: urinary incontinence, prolapse, chronic pelvic pain and pain associated with intercourse. His office is located on Glenmore Trail in Calgary, AB.
To see the full website, you can go here: www.pelvicfloor.com